Aluminum Doors & Entrances
Commercial Aluminum Storefront Doors & Entrances
At Hagen Glass we understand the importance of having a welcoming storefront for your business. Aluminum storefront doors offer a sleek contemporary design built to last. We will work with you to design a commercial entrance system that suits the needs of your business and your customers. Whether you are looking to upgrade your commercial glass doors for a small office building, storefront, bank, or shopping center, the architectural appeal of durable anodized aluminum doors will present a welcoming environment for your customers, or your employees. With multiple commercial entrance design options, you will have no problem finding the entrance system that fits your business persona.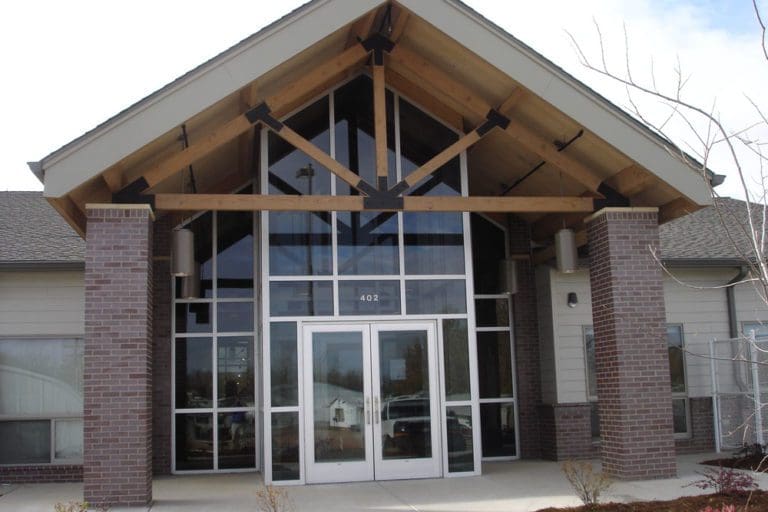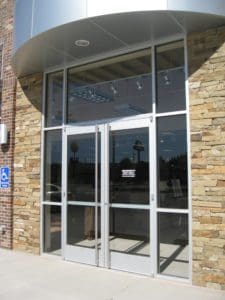 Aluminum Storefront Doors
Aluminum doors and door frames are not only cost-effective but functional. The durable anodized aluminum keeps a modern look with its clean lines for years to come. Also, the aluminum doors and door frames can withstand harsh weather conditions while providing a secure barrier for your business.
Commercial Entrance Systems
A commercial entrance system holds significant value for any business, serving as the first point of contact with customers and visitors. Beyond its essential security functions, a well-designed entrance system conveys professionalism and modernity, leaving a lasting impression on potential clients. It enhances accessibility, ensuring that everyone can enter the premises comfortably. Additionally, it can be integrated with advanced access control technologies, offering convenience and data-driven insights for improved operational efficiency. In today's competitive business landscape, a reliable and aesthetically pleasing commercial entrance system is not just an asset but an essential investment for enhancing safety, image, and overall customer experience.
For larger storefront entrance systems, a curtain wall system may be necessary.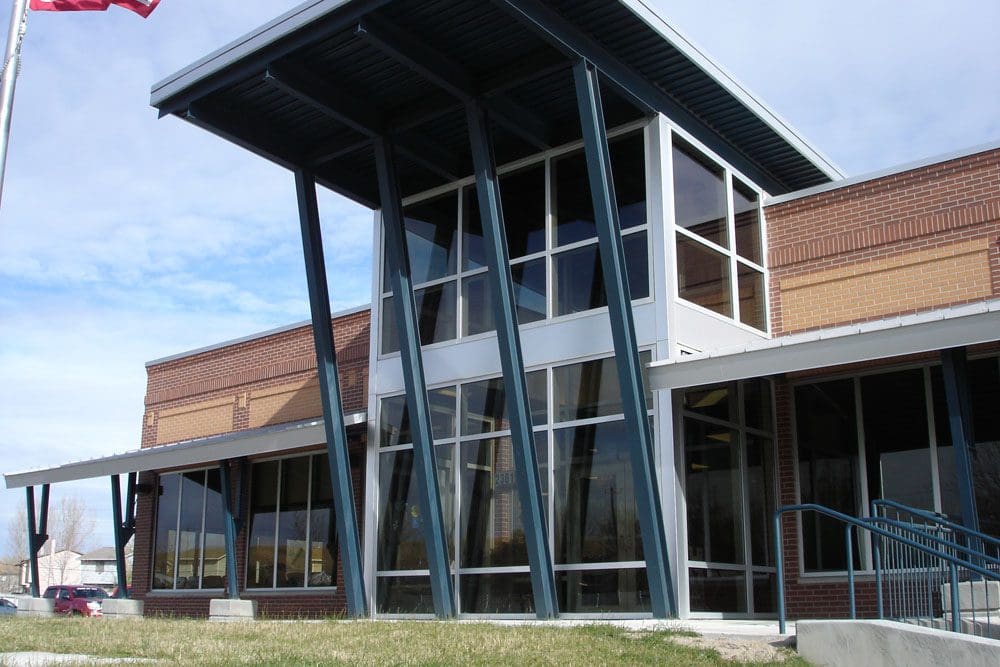 Things to consider before installing a new storefront entrance system
Decide what type of storefront door works best for your business. Do you want to use a standard sized entrance door, or an oversized door (over 84" tall or 36" wide) to add a customized look to your storefront?

Are you working with a standard opening, or do you have large transom windows and sidelites that surround your storefront entrance?

Do you have a pre-existing curtain wall system, and are you looking to maintain it or replace it?

Get inspired: Be sure to look around at other commercial storefronts that you like to take a few ideas for your own!

Work with the experts at Hagen Glass: Ask us for ideas about your storefront entrance! Whether you are an architect, contractor, or business owner, we are here to help you design the perfect storefront entrance.
Storefront Entrance System Components
Storefront doors: Standard storefront door openings are 3 feet by 7 feet (3070, 36" wide x 84" tall) for a single storefront door and 6 feet by 7 feet (6070, 72" wide x 84" tall) for a set of double storefront doors. Of course, Hagen Glass can fabricate your storefront entrance system with custom heights and widths. Storefront doors typically require the following hardware: 
Frame: The structure that surrounds and supports the glass or door panels, often made of aluminum or steel.
Closer: A door closer is a mechanical device that controls the speed and force of a door's closing, enhancing safety and energy efficiency.
Push Bar / Push Handle: A push bar or push handle is a horizontal door-mounted device that allows quick and easy egress by pushing on the bar or handle, often found on emergency exit doors.
Hook Lock / Latch: A hook lock or latch is a type of door locking mechanism that secures a door by engaging a hook-shaped component into the door frame, providing reliable security.
Offset Pivots: Offset pivots are hinges with an off-center design that allow doors to pivot smoothly and are commonly used in storefront and commercial applications.
Door Threshold: A door threshold is a horizontal strip or plate at the base of a door frame, creating a smooth transition between indoor and outdoor spaces while helping to seal the door to prevent drafts and moisture infiltration.
Automatic Door Operators: Devices that automate the opening and closing of automatic entrances, improving accessibility and convenience. 
Transom and Sidelights: Additional glass panels above the door and on the sides to enhance aesthetics and natural light. They also work great to fill in extra space left from installing standard storefront doors in a larger opening.
Let the experts at Hagen Glass help you design and install a storefront entrance that you and your customers can be proud of! Contact us today!